Verizon is now rolling out Android 6.0.1 Marshmallow for the Galaxy S6 and S6 edge
31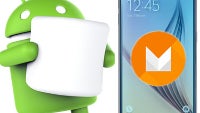 Though Samsung has brought plenty by way of improvement with the new
Galaxy S7 duo
, last year's
Galaxy S6
and
S6 edge
are by no means forgotten relics. In fact, the latest Android Marshmallow has been rolling out to numerous editions of the two handsets for the past few weeks, most recently the
Sprint Galaxy S6
. With
T-Mobile still testing
the update for both models, Verizon has now joined the party, having just begun furnishing Galaxy S6 and S6 edge owners with the long-awaited OTA update.
As aforementioned, the software has been available in an official capacity for quite a while. But as is ever the case, it's taken a while to reach certain users, since carriers like to add their own finishing touches before pushing out a major update.
Android 6.0.1 Marshmallow for the Galaxy S6 and S6 edge includes all of the perks you'll surely be familiar with right now, including Google Now on Tap, a new-look notification panel and
Doze
, which should better help you to conserve those precious droplets of battery. Since it's Android 6.0.1, you also get the March security updates.
If you do happen to own the S6 or S6 edge on Verizon, you may not get the OTA notification right away. As ever, the update is being pushed out in waves, so may take a few hours or even days to finally hit your handset.
As you wait, here's a look at some screenshots we took when our own Galaxy S6 was updated from Lollipop: