Android Marshmallow's Doze saves a ton of battery, but here's how to activate Aggressive Doze
10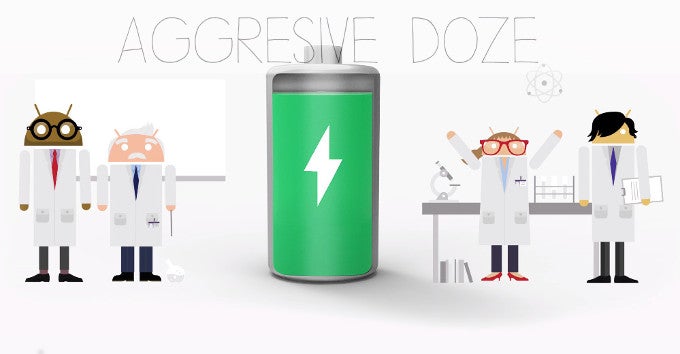 Refreshed UI design, smoother animations, extra perks and features — all of these are good reasons for Android users to want to update to the latest firmware. But with Android 6.0 Marshmallow, Google introduced a pretty significant, but decidedly un-sexy, new feature called Doze. The idea behind Doze is kind of implied by the name, but not entirely.
In short, the intent is to put your smartphone into a deep state of sleep when it's not being used, reaping significant increases in idle power efficiency. Important apps (ones tagged as High priority or ones that Google agrees developers have reason to tag as such) are allowed to function if need be, so you'll still get calls and alarms will still go off, but not any of the super-annoying notifications from overly intrusive games asking you to tell the world about them. Doze will also, at predetermined intervals, accept notifications from lower priority apps, and push them as a bundle just once in order to conserve battery. Finally, Doze will not work if your device is charging, which makes sense. In fact, the entire project makes a ton of sense.
But for Doze to activate, a number of conditions must be met, otherwise your phone will be stuck in its usual state of light sleep indefinitely. Most important among these perhaps is the need for your device to be completely stationary and for it to sense no motion for a while. So if you're walking around or doing anything with your phone in your pocket, Doze won't activate. That makes sense for most users, as it implies that the device could end up being used at any moment, but also limits the feature. Enter Aggressive Doze.
Aggressive Doze is an experimental feature available with the popular Greenify app that does something alike to what Doze does today, only it existed long before it. With Doze in Marshmallow, however, Greenify's appeal was suddenly greatly diminished, so the developer behind is currently testing said new experimental feature, which is only available in the beta build of the app. With it enabled, Doze can be forced onto the device much sooner, and the condition of no motion can be turned off. We haven't had the opportunity to test out just how it compares to using a Marshmallow phone with the built-in Doze feature, but we've been hearing good things, and so here a quick guide on how to get Greenify Beta and how to activate Aggressive Doze (root helpful, but
not
required).