Samsung Galaxy S7 Edge vs Galaxy S7
15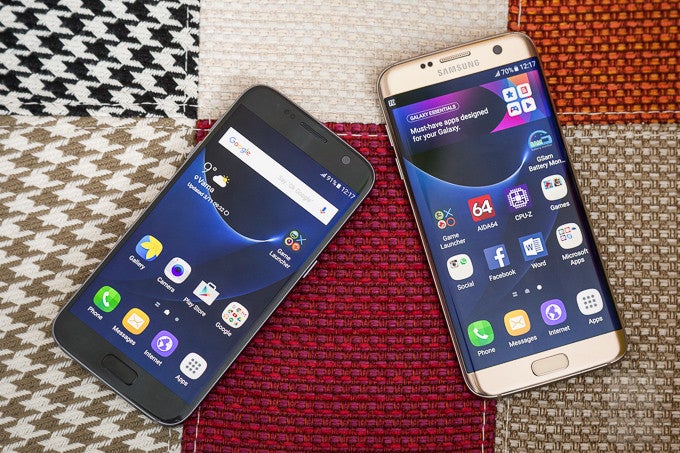 Introduction
Just like last year, in 2016 Samsung brings out not just one, but two new flagship-phones: the flat-screened
Galaxy S7
and the curved
S7 edge
, which has a bigger screen this time around.
The two are practically identical when you look under the hood: equipped with the same processor and same camera, the Galaxy S7 and S7 Edge are clearly Samsung's fastest, best phones to date.
So which one should you get: the S7 or S7 Edge? Since both are nearly identical, that will depend on what size you prefer: the bigger Galaxy S7 Edge or the more compact Galaxy S7, but there are also few questions begging to be answered. First, is the Edge UX functionality that is only present on the S7 Edge a big advantage? And what about battery life, does the larger battery cell on the S7 Edge result in better actual battery life? We take a look at all this and other nuances to help you make the right choice between Samsung's two new phones.
Design and size difference
Size will be one of two key decisive factors: luckily, the Galaxy S7 Edge is very compact for its screen size and not all that much larger than the S7.
The Galaxy S7 and S7 Edge feature almost the same design styling as last year's S6 and S6 Edge, so much so that they would look identical to the untrained eye. Look closer, and you'd see some slight but worthy improvements: the larger, more flush home button; the curves towards the edges on the back of the phone that make it a more comfortable fit in hand; the slight change in positioning of the front camera.
Now, all of these changes are on both the S7 and S7 Edge, but what about the differences? Of course, the S7 edge has a 'dual-edge' display, but that's about it in terms of design style.
The one key differentiating factor for buyers trying to choose between these two, though, is clearly size: the 5.5" S7 Edge is bigger than its 5.1" S7 sibling. Both are practically equally thick at almost 8mm, but the S7 Edge is wider and taller (5.94" height vs 5.61", and 2.86" width vs 2.74").
Does this mean that those who value compactness should automatically discard the 5.5" Galaxy S7 Edge? We'd say 'no' to that: the S7 Edge fits quite comfortably in the hand for its size and Samsung has made it much smaller than, say, the 5.5" iPhone 6s Plus. If you have doubts about which size is right for you, you can use our awesome size comparison tool as well.
It's also worth mentioning that the S7 and S7 Edge will be available in black and gold in the United States, while the white version of the phones will not be initially available stateside. The S7 Edge also has an exclusive silver color version.
Finally, both phones also feature the quite useful water and dust resistance. They come certified with IP68 rating, meaning that they can survive submersion in up to 5 feet deep fresh water (salty ocean or sea water will damage them, though) for as long as 30 minutes. Samsung won't recommend you use them for underwater photography, though, but rather says that they should survive accidental spills or drops in water.
Display
Equally great-looking screens, just make sure to switch them to Basic display mode for realistic colors.
Samsung is a pioneer in terms of displays, known for its bright and vivid, rich color AMOLED screens. The new S7 and S7 Edge get the latest and most refined Super AMOLED screens to date: a 5.1" flat one on the S7 and a 5.5" curved one on the S7 Edge.
Both feature Quad HD (1440 x 2560-pixel) resolution, which is super sharp and looks great, nearly paper-like in terms of detail.
Apart from the size different and the curves of the S7 Edge, there really is no practical difference between the S7 and S7 Edge screens.
Display measurements and quality