Verizon running BOGO deals on multiple Android flagships, no trade-in required
4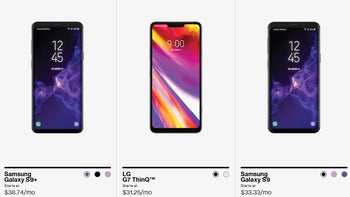 Just a few days before the
Amazon Prime Day
, Verizon is running a BOGO (buy one get one free) deal on some of the most interesting Android flagships launched in the last two years. We have the Pixel 2 and Pixel 2 XL, as well as the
Samsung Galaxy S9
/S9+ and
Galaxy Note 8
, but also the
Moto Z2
,
LG V30
, and
LG G7
, so there's a high chance that anyone will find the right device.
More importantly, these BOGO deals don't require trade-in, but it will force you to stay with Verizon for two years. So, here is how the deal is working for customers who want to purchase one of the smartphones mentioned earlier.
First off, choose the model you want, then add the second one with monthly device payments. If you qualify for the BOGO deal, you'll get a $799.99 credit to your account over 24 months. Unfortunately, if any of the phones eligible for the deal costs more than $799.99, you'll have to pay the difference for the second one.
Also, Verizon only offers a $649.99 discount on the
Pixel 2
and
Pixel 2 XL
, so you'll probably have to pay $200 upfront if you choose the latter since the carrier sells it for $849.99 outright.
Finally, your second phone must absolutely be on a new line, otherwise, Verizon won't give you any credits to your account. On the flip side, if you choose the
Galaxy S9/S9+
or the
Note 8
, you'll also receive a 64GB microSD card for free.
Recommended Stories