(Updated) More pictures of the Samsung Galaxy S6 and S6 Edge leak
99+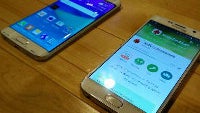 The most massive leak regarding the Galaxy S6
is already a fact
- the AT&T-bound version of the flagship popped up in full glory. Judging from these pictures alone, it seems that Samsung has nixed both the microSD card slot and the removable battery, two traditional features of its top-tier devices.
More pictures of the handset leaked afterwards, showing us not only the Galaxy S6, but its more compelling brother, the Galaxy S6 Edge. Apparently, just as we and many of you suspected, the display is sloping on both sides, unlike the Galaxy Note Edge, the screen of which overlaps the right side of the device only.
Right below, you'll see both devices turned on, pictured from the front and from the back. Take a gander at tell us what you think!
Update
: Three new pictures popped up. We've added them right below. What's more, the original leaker of the pictures claims that the units he got his hands on are indeed the real deal. Both units seemingly run Android 5.0.2 Lollipop out of the box and seem to employ a new fingerprint scanning technique - swiping is no more, a simple tap on the sensor seems to do the job. The leaker also claims the phone "feels solid as heck" and that previous leaks have "not done this phone justice".