Unreleased Nokia Windows Phone 8 handset leaks with physical QWERTY in tow
25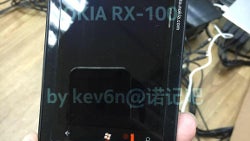 Amid the excitement generated by the physical QWERTY keyboard on the
BlackBerry KEYone
, a leak has revealed that back in 2012, Nokia had a Windows Phone powered handset prepped for the business market. Featuring a front-facing physical QWERTY keyboard, the handset ran an early version of Windows Phone 8 but was never released. The unit was known as the Nokia RX-100, and photographs of the phone have been discovered on a website in China. The device does show a resemblance to the 2011
Nokia E6
, which also was equipped with a physical QWERTY keyboard,
but was powered by Symbian
.
The Nokia RX-100 carried an AMOLED display and had 2GB of native storage inside. The physical QWERTY was made up of 39 keys without a dedicated numbers row. Back in 2012, there was speculation that Nokia was spending time at MWC trying to get U.S. carriers interested in offering the model. Of course, that never happened. As a result, the Nokia RX-100 became one of those unreleased phones that never got a chance to show the public what it could do.
Check out images of the Nokia RX-100 by simply clicking on the slideshow below.
source:
MSPowerusers