Ulysse Nardin's Chairman resurfaces
3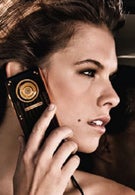 Crazy about luxury phones? Then we might just have good news for you. Some time ago, we told you that the high-end watch maker Ulysse Nardin has set on a mission to deliver the "
world's first phone with watch DNA
". The ultra-expensive gadget, pompously called the
Chairman
, has now resurfaced with additional information about the technology that powers it. Don't get it wrong, it is not similar to the
Mobiado 105GMT
, which features two self-winding Swiss watches on its front side. In contrast to it, the Chairman has a mechanical watch rotor on its back, the purpose of which is to supply the elaborate device with additional power. The idea here is that the built-in battery is charged by the kinetic energy generated by the moving rotor.
Unlike other luxury phones, the Chairman not only captures the eye with breathtaking design, but also offers advanced functionality, as every full-fledged smartphone should. The "timely" handset impresses with a multitouch-sensitive screen, measuring at 2.8 inches. Wi-Fi networking is also present for optimized high-speed connectivity, along with an up-to-date 5-megapixel camera. Being a smartphone brings the necessity of an operating system. Unfortunately, there isn't information about the exact software that will power the device, but it is almost certain that whatever the OS, it will be customized, judging by what we see on the images.
The manufacturer has done well in producing various color solutions so that its work of art would appeal to every kind of taste. The available options are "Rose Gold", "Rose Gold and Blue", "Rose Gold and Steel", "Stealth Black" and "Steel and Blue"; each one delivering a unique look through materials of highest quality, though, it hasn't been revealed yet exactly what materials are used in the craftsmanship.
Maybe some of you would like to know the price. Well, it is a mystery for now, but we bet it won't be on the affordable side. And no – do not expect that we write a review about it, not that we can't afford it, really.
source: UlysseNardin