Mobiado 105GMT Gold with or without diamonds – it's up to you
17

If you have never heard of Mobiado, then you probably aren't a fan of the ultra-expensive and luxurious phones. We've
mentioned
some of their products before; they differ from the rest with a unique design and a high-class production, made possible thanks to the very expensive materials… In the current case, the
105GMT Gold
, as its name suggests, has some gold-plated elements and others that are made of ebony. The front and back sides don't fall behind, as they are made of sapphire. On top of this, its size is pretty compact (5.03 x 1.87 x 0.41 inches), but we doubt that its weigh of 8.51 oz. will make it comfortable to wear in one's pocket.
What's unique about that phone is that below the keypad you'll find two mechanical, self-winding
Swiss watches
, featuring hands made of gold. There's even a more luxurious version of the device, with incrusted diamonds, pointing the hours and forming the "M" logo between the two watches.
In case your heartbeat has gone mad after reading this and you've suddenly felt an uncontrollable need to own the 105 GMT, you'd better hurry up to order it, because it's edition is quite limited – there are only 50 units for the whole world.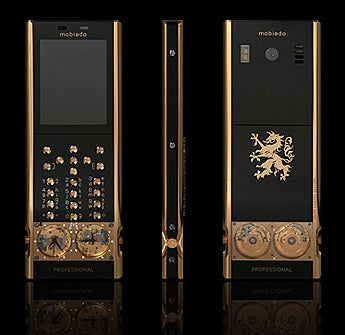 Mobiado 105GMT Gold
source:
Mobiado
via
gsmhelpdesk