Ultrapixel Camera 'could' come to lower-level HTC smartphones
31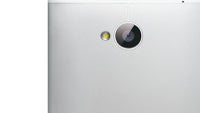 The
HTC One
is not only a beautifully designed device that packs an impressive hardware muscle - it also goes against the mass-market trend of increasing megapixel count and instead focuses on image quality with less but larger pixels and some optical image stabilization. The One comes with a dedicated ImageChip 2, a piece of silicon that allows faster image processing.
Good news is that some of that 'could' come to lower-level HTC smartphones.
Asked whether the
UltraPixel camera
will land in more affordable HTC devices, HTC UK head Phil Robertson said:
"It could … the core is around the sensor and the image chip that we are using."
Don't expect the full scale of improvements that the HTC One brings, though, as the Snapdragon 600 chip is a key part of the performance of the camera. More affordable devices clearly won't feature such a powerful chip.
"However, the Qualcomm chipset [used in the HTC One] does enable a lot of this to happen. The ability to take HD video and high-res images at the same time is powered by the quad-core on the device, as well,"
Robertson noted.
Additionally, the HTC UK did say that a lot of HTC One features like BlinkFeed will make their way to other smartphones by the company.
source:
Omio