First real HTC One UltraPixel camera samples pop up (video)
43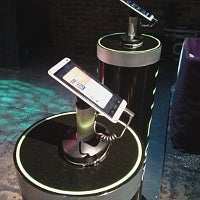 A few improvised photos have been snapped during the
HTC One
unveiling festivities yesterday, and with the phone itself at that. So far we only had the company's promo shots, which looked good, but promotional pics are usually done in the best of circumstances, so real-life shots are what counts.
The One units at the event are likely non-final, yet the quality of the
UltraPixel camera
software on such pre-release devices is usually pretty close, if not the same, as the retail ones, so from the pics below you can get a decent impression about the phone's low-light capabilities. The shots come out at 2688x1520 resolution, or 4 MP 16:9 format, which, unless you are going to print out billboards, is more than enough for the typical usage.
Just like with the
Lumia 920
and its own optical image stabilization, bright areas seem a tad overexposed when it's darker around, as the phone soaks much more light than your typical handset in these scenarios. There is also some noise and detail is on the average side - overall not groundbreaking, but pretty decent performance coming from what is perhaps a non-final unit. The optical image stabilization, however, will help avoid blur in the photos, which very often results when something moves in low-light scenarios with other smartphones.
Have a look for yourself in the slideshow below, where the HTC One samples are compared to similar frames taken with the
Nexus 4
. There is also a Full HD video taken with the One, which thanks to the OIS system inside looks very stable, though the continuous autofocus wanders around quite a bit.
We can't wait to take the final retail unit for some real-life photography, but one thing is for sure - the UltraPixel camera is a definite advancement before every module HTC has put in its phones so far.