Tweet from AT&T says Samsung Infuse 4G to get fed Gingerbread this month
11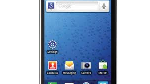 Just because the Samsung Infuse 4G gives you a
gigantic 4.5 inch display
doesn't mean that the OS aboard is the latest, most up-to-date offering from Google. After all, users of the device have had to live like cavemen with Froyo installed on their phone. Yeah, yeah, yeah, it's good for getting Adobe Flash and all, but it is not the latest and greatest build of Google's open source OS. You can imagine the suffering.
But this is about to change. In response to a question sent from a Samsung Infuse 4G user as to when he might receive Android 2.3, AT&T responded that
the Gingerbread update will becoming to the device sometime this month
. If the carrier keeps its word, in just a bit more than 2 weeks, owners of the Samsung Infuse 4G won't have to have that perpetual scowl upon their face-no more ranting about devices with smaller screens running more recent software. Now that doesn't mean that some delay won't occur, pushing the process into September, but as of right now,
all lights are green and all systems go
for the Gingerbread update coming to the Samsung Infuse 4G before the end of August.
By the way, if you click on the link on the tweet, you are sent to an AT&T press release that says that
all AT&T Android phones released this year by the carrier will be receiving Android 2.3
at some point during the year. Besides the Samsung Infuse 4G, that includes the HTC Inspire 4G, LG Phoenix, Motorola Atrix 4G, Pantech Crossover and Samsung Captivate.
source:
Twitter
via
AndroidCentral

This tweet from AT&T says that the Samsung Infuse 4G will receive the Gingerbread update this month