Transferring data from smaller-screened models is causing a problem on the new iPhones
42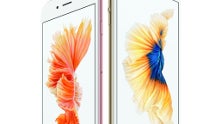 There have been a number of problems following the launch of the
Apple iPhone 6s
and
Apple iPhone 6s Plus
, just as there are every year when the latest models are released. We told you that some iPhone 6s and iPhone 6s Plus owners
are complaining about the Touch ID/Home button getting exceptionally hot
, while at the same time the screen just shuts down.
Now, something new has been affecting those with the latest iPhone models. Apparently, stock apps including Calculator, Wallet, Weather, Calendar, Health and Watch are being rendered all wrong on the iPhone 6s and iPhone 6s Plus. If you used iCloud to transfer the content on these apps from the smaller screened
Apple iPhone 5
,
Apple iPhone 5s
and
Apple iPhone 5c
(running on iOS 9) to the iPhone 6s or iPhone 6s Plus, you might see the edges cut off the sides of the apps when you open them on the newest iPhone models.
A workaround is available, although it is counter intuitive. You need to turn on the "Display Zoom" setting before opening one of the affected apps. To do that, go to
Settings
>
Display & Brightness
>
View
>
Zoomed
, and then open the app in question, like Wallet. When you're finished with the specific app, you will have to turn off "Display Zoom," or else other apps will look too big. Another idea, which is more time consuming, is to set up your iPhone as a new device, eliminating the transfer of data from smaller screened iPhone models.
There is hope that you won't have to continuously worry about a workaround. Apparently, iOS 9.1 beta 3 eliminates this issue, hinting that the problem will be dealt with in iOS 9.1.
source:
MacRumors
via
RedmondPie