Toshiba Thrive tablet lands in July with a full USB port, starting at $429
5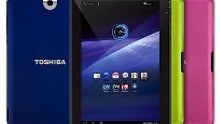 We were quite impressed handling what was known just as the
Toshiba Tablet at the CES show
way back in January. Even though the prototype was still running Froyo at the time, Toshiba managed to differentiate it from the rest in the Android tablet pack, and now it let it out officially, naming it the
Toshiba Thrive
.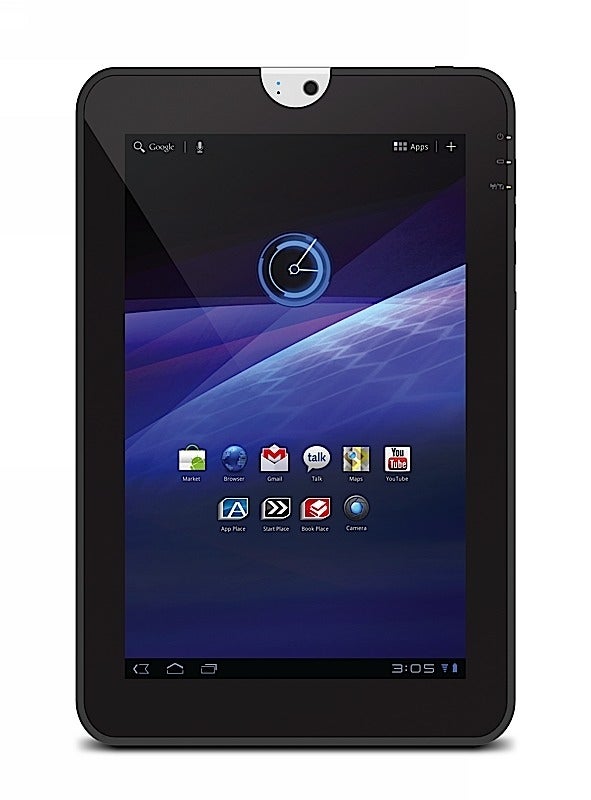 Apart from the usual goodies for a nice Android slate, like a 10.1" display with 1280x800 pixels, Android 3.1 Honeycomb, a 1GHz dual-core Tegra 2 chipset, 5MP rear camera and 2MP front one, the
Toshiba Thrive
sports an unorthodox ports collection. It sports a miniUSB port for hooking up peripherals like your video camera, an HDMI-out port, a dock connector, and, get this - a
full-size USB 2.0 port
, which with the
recent update of Honeycomb to 3.1
, is supported by Android.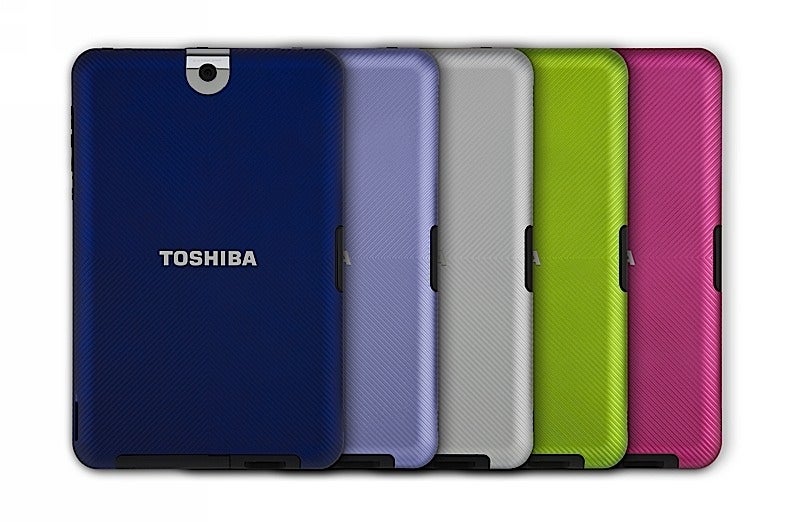 Toshiba Thrive sports a variety of back covers
Not too shabby of a collection to stand out, but Toshiba didn't stop. It provided the back cover with the so-called
Easy Grip rubberized finish
, and made the covers swappable with others in a different color, for when you get bored of the looks. Removable back cover also means that you can
take out the battery and swap it with another on
e, something that can't be officially done on any other major tablet. These additions mean that the Toshiba Thrive is not as thin and light as the
Galaxy Tab 10.1
, or the iPad 2, for example, but at 10.70x6.90x0.60" (272x175x15 mm) and
27.20 oz (771 g) of weight it's not overly obese either. Toshiba says that the battery will last
7 hours of HD video playback
and will recharge to 80% for 1.5 hours.
On the sides you'll have a separate button to lock the screen orientation, for when you are annoyed of your tablet switching modes from the slightest twist of the hand, which happens pretty often. In the 16:10 widescreen format,Toshiba has planted some of its
Resolution + image enhancement technology
for when you are watching movies, the same one from its flat screen TVs. Stereo speakers with SRS technology are also onboard.
A few accessories round up the Toshiba Thrive offering - a case that doubles as a stand, and a
dock
with two additional USB ports, plus HDMI.
The Toshiba Thrive will be starting at $429, but for an 8GB Wi-Fi version, then comes the 16 gigger for $479, and the heavyweight 32GB version will run you a cool $579, plus they all have an SD card slot, should you wish to add more storage. Toshiba's first foray in the world of Android will be available in mid-July from major retailers like Best Buy, Staples, OfficeMax, Office Depot, RadioShack, and Amazon. Are you game for the Toshiba Thrive, or would you rather have a thinner slate?
source:
Engadget
Recommended Stories