Toshiba 10" Android Tablet Hands-on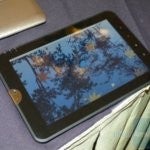 Even before the very first day of CES kicked off, we were able to scope some face time with Toshiba's upcoming 10.1" Android tablet that stuffs plenty of goodies that's sure to keep pace with the handful of other tablets jumping on the scene. After
news about their Folio 100 Android tablet
started to spew all over the place, we're happy to say that the sour taste from the Folio 100's aftermath pretty much washed away after checking out this intriguing new tablet. Specially, it's coming on board with a decent looking design that's
tastefully topped off with some killer next-generation specs
that's sure to appease even the most demanding users out there.
One of the best parts of Toshiba's upcoming 10.1" tablet is the fact that it sports a
rugged design
that seems to be able to withstand the rough and tough actions of some people. In addition to flaunting the larger display, we are overly confident with the tablet's design since it incorporates some durable feeling materials – which is most evident with its
interchangeable easy grip rubberized finish
. And the neat thing about that interchangeable rear cover, is that you'll be able to
swap out that battery
!
Aside from the amount of space that the 10.1" touchscreen is taking up, we're more than pleased with the
1280 x 800 pixels resolution
which provides for some crisp and detailed visuals all around. Additionally, the sides of the tablet are covered with an abundant of connectivity ports – these include things like a miniUSB port, HDMI port, SD card slot, and a full sized USB port. Finally, it also packs a 2-megapixel front facing camera and a 5-megapixel camera in the rear to keep the multimedia side of you satisfied.
Although the unit on hand that we checked out is still in the development process, it's going to be running
Android 3.0 Honeycomb
when it's released in the spring. Though, we have to say that the experience should be top notch since the tablet will be powered by a
dual-core Tegra 2 chipset
that should provide plenty of horsepower for even the heaviest of users out there. Gladly, Toshiba is going to include some specific enhancements, like its
resolution plus technology
, which will improve the quality of standard definition videos when it's being displayed on its high resolution screen. Surprisingly, this Toshiba tablet is undoubtedly shaping up to contend with the big boys, so we'll be keeping an eye out on its progress.