Google announces Android Ice Cream Sandwich and Honeycomb 3.1, promises timely updates
98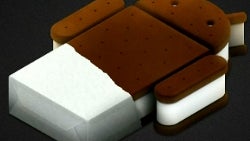 After bragging about
100 million activations
hit in 2011, and Android Market reaching 4.5 billion downloads to date, at Moscone Center in San Francisco Google announced the newest version of Android -
Ice Cream Sandwich
.
It's not just bringing over the good stuff like the holographic UI and richer widgets from Android Honeycomb, the tablet version, but adding a few new features of its own.
Speaking of Honeycomb, it is getting updated to 3.1 as of this moment, and users of the
Motorola XOOM
on Verizon can get the update right now. It adds
USB host
support to Android, for hooking up tens of peripherals like cameras, keyboards and game controllers directly to your Android tablet. Some of the other new features are cosmetic - the widgets can now be customized to stretch vertically or horizontally any way the developers like. Some include new apps, like Movie Studio for video editing, new Movies and Books apps, for renting said media, and a faster browser with new Quick Controls settings. Not to mention that Honeycomb is heading to Google TV as well, if that ever takes off.
Ice Cream Sandwich, in its turn, was just called Google's "
most ambitious release to date
", and the aim is for it to power tablets, convertible tablets, and, of course, phones. Google will be ramping up its efforts developing the application framework, to avoid fragmentation. Mike Claron from the Android Engineering Team said that Google wants
one OS that runs on everything
.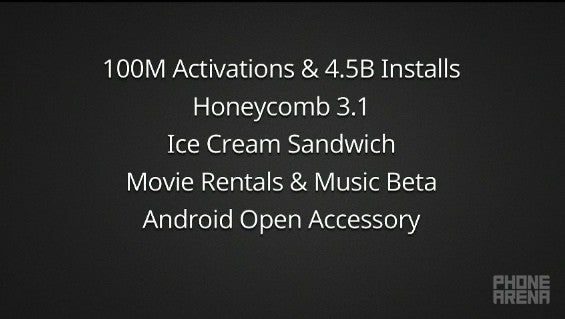 To demonstrate the "
depth and breadth
" of the new APIs, a GPU-based OpenGL demo was made of tracking a human face, and distorting the perspective in real time. And we mean distorting - the app could recognize the place of the nose and eyes, for instance, and played around with the perspective in pretty frivolous ways.
The practical approach to this API was when a camera app was shown, that automatically focuses on the face of the person that is talking at the moment, and it worked pretty neat and fluid.
The biggest news for us, however, was that Google sat down with cell phone manufacturers, carriers and other members of the Open Handset Alliance, and is coming up with
strict system how soon after the release of a new Android version handsets will be updated,
and for how long will they be supported with new versions. In the case of the abovementioned manufacturers their phones will be included in the timely updates project for at least
18 months after initial launch
, provided that the hardware can handle the new versions. Android Ice Cream Sandwich (notice that no numbered version was mentioned), will be hitting smartphones and tablets some time in
Q4 of this year
.
Yes, this group includes Samsung and Sony Ericsson, to answer your most burning question, but HTC, LG, Motorola, Vodafone, Verizon, Sprint, AT&T and T-Mobile are also onboard, hopefully putting an end to the mess that Android updates have become. At the end, each of the attendees were promised to receive the insanely thin, and yet-unreleased
Samsung Galaxy Tab 10.1
, which will be getting its Android 3.1 Honeycomb update very soon, said Google's Hugo Barra, flashing the audience with one of said tablets.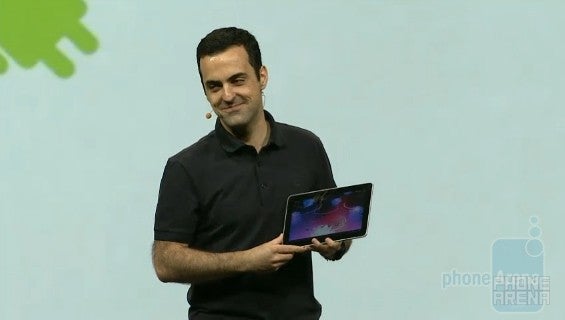 Recommended Stories