Toshiba Thrive Review
6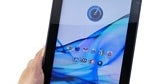 Introduction:
To date, most of the Android Honeycomb flavored tablets we've checked out have all performed similarly with their platform experience, but as we've seen, some are able to distinguish themselves by offering some sort of unique functionality. In fact, we've seen things like 3D video capture, the return of the stylus, and add-on keyboard attachments – all of which are deem supplemental, but not profoundly practical. Well, the
Toshiba Thrive
doesn't try to woo consumers with some sort of gimmick, but rather, it goes back to the root of things in hopes of strengthening the fundamental functionality of tablets. Seeing that this is their first foray into the Android tablet market, it's interesting to see if it's actually going to be "the first tablet to get it right."
The package contains:
Toshiba Thrive
miniUSB Cable
Wall Charger Adapter
Start Guide
Health & Safety and Warranty Guide
Design:
Scary to say, the Toshiba Thrive is hands-down the bulkiest Honeycomb tablet we've scoped to date weighing in at 25.57 oz and sizing up evenly all around at 0.62" thick. Additionally, when so many other tablets try to keep a slim figure, it's quite baffling to find the Thrive doing the complete opposite with its overall uninspiring and bland looks. Of course, the only noteworthy difference that it can call its own is the fact that its offers slip-resistant rear covers that are available in a myriad of colors – thus, adding just a subtle hint of personality to its appearance.

Rather than finding an IPS display like some of its contemporaries, the Toshiba Thrive instead features a
10.1" LED-backlit display
with a resolution of 1280 x 800 pixels. Honestly, we're content with its overall quality since it produces an abundant amount of detail and punchy looking colors that aren't too overly saturated. Combining its wide
viewing angles
and high brightness output, it's able to maintain its appearance even in outdoor conditions – albeit, we're still finding ourselves shielding it from the sun.
Initially, we're turned away by its sheer size, but after taking a peek around its
sides
and
rear
, we're able to better clearly comprehend why it's packing so much more girth than others. For starters, the Thrive does its best to accommodate the needs of many users with its standard set of components – like its 3.5mm headset jack, full size HDMI port, full size USB port, SD card slot, and miniUSB port. In all honestly, some will appreciate that the Thrive maintains most of the key elements found with most laptops and netbooks nowadays – then again, its size is rather difficult to overlook.
Much like its rivals, it features a
front-facing 2-megaixel camera
and a
5-megapixel auto-focus shooter
in the rear – though, it doesn't offer any flash. And even though it's not something you find common with tablets, we find an unlikely element with the Toshiba Thrive since it actually offers easy access to its removable 2,030 mAh battery.