The best rugged cases for the iPhone 7 and iPhone 7 Plus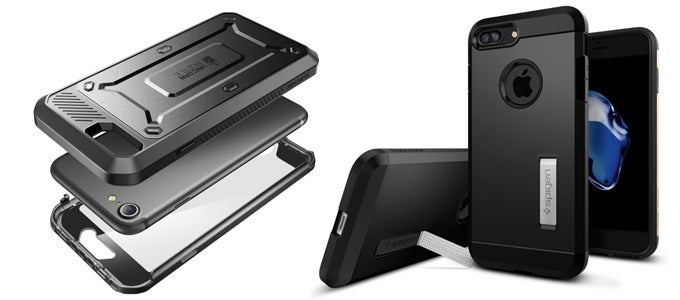 The iPhone 7 and iPhone 7 Plus are Apple's first water-resistant phones. Bearing an IP67 rating, both models can take a good bit of water splashing and dust, but are by no means fully water-proof. Still, any level of ruggedness is more than welcome out of the box, especially when it comes to premium devices of the iPhone caliber. But what if that's not enough for you? What if you don't want to give up on the high-end mobile experience, but simply cannot accommodate the use of fragile flagship phones to your lifestyle? Well, in that case, you invest in one of these rugged cases to protect your shiny new gadget. No matter whether you have a strong inclination toward the extreme, or you're just looking for a tough case for your iPhone 7 for day-to-day use, you'll surely find something that fits your needs in this list.
Unicorn Beetle Pro Holster Case by i-Blason ($24.99)
This heavy duty case by mobile accessory maker i-Blason aims to protect both the front and back of your iPhone 7/iPhone 7 Plus with its two-part design and built-in screen protector. The Beetle Pro Holster Case is made out of soft TPU and polycarbonate (PC) materials, and sports covers to block dust and fine debris from entering the ports of your device, as well as a detachable bumper 360-degree swiveling belt clip.
Tough Armor by Spigen ($34.99)

Spigen's Tough Armor cases for the iPhone 7 and iPhone 7 Plus are made from flexible TPU, but sport hard PC backs for dual-layered protection. The raised edges around the screen and the camera opening ensure that both will be protected when leaving the phone on a flat surface either side up, while the speaker and microphone grills on the bottom are fully covered by the case, deflecting sound through two front-faced openings. The four corners on the case sport Mil-Grade Protection with Air-Cushion Technology found on all Tough Armor cases by Spigen. The iPhone 7 Plus version of this case features a built-in kickstand.
Defender Series Case by Otterbox ($49.95)
This Defender Series case by Otterbox provides iPhone 7 users with a great all-around protection for their devices, thanks to its two-part design with built-in screen protector and covers for all ports. It is comprised of a polycarbonate inner shell and outer slipcover made from synthetic rubber that absorbs and deflects impact shocks. The case is complete with a polycarbonate holster that works as a belt clip and doubles as a hands-free kickstand.
Monarch Series by UAG ($59.95)
A top-of-the line case that's compatible with both the iPhone 6/6s models and the iPhone 7. Comprised of five layers of protective materials, this case should provide more than enough protection for your device, albeit only for the back of it. It sports a tough armor frame on top, surrounded by thick rubber padding for shock absorption, partially hiding beneath a layer of top grain leather. Finally, there is a polycarbonate shear plate for protection from larger impacts. Everything is securely held together by four large, metal torx screws that also look pretty cool.
Parallax by Caseology ($24.99)
An affordable case that provides not amped-up protection for your shiny new phone, as well as some idiosyncratic style. Parallax consists of a shock-resistant TPU body and a tough polycarbonate frame for added sturdiness, while raised edges around the camera and screen offer protection for both no matter which way up you leave the phone. It may not be as heavy duty as other entries on this list, but Parallax should offer more than adequate protection to those who are in the market for a more stylish, less rugged solution.
Stash Case by X-Doria ($34.99)
This quirky case by X-Doria is not aimed at people with a strong inclination toward the extreme, but at the urban types looking for something that combines amped-up protection, style, and offers a place to stash up to two credit/ID cards. Yup, this is the standout feature of the Stash case, duh, and it's pretty cool if you don't carry cash on you, as it basically negates the need for a wallet. Just shove your ID and credit card in the specialized compartment and call it a day! Other than that, this X-Doria case consists of a soft TPU body with a polycarbonate outer frame and a metallic cover for the cards compartment.
Trooper Series by UAG ($39.95/$44.95)
Just like the previous case, this one also aims to take kill two birds with one stone, by providing you with a separate compartment for up to four cards. The main difference between them is, you use this one when you go rock climbing. True to UAG tradition, this case is as rugged as they come. The raised edges around the screen and important openings, combined with the rear skid pads and impact-resistant core, ensure that this case meets military drop test standards, which makes it perfect for endeavors of the extreme variety. It also fits the iPhone 6/Plus and iPhone 6s/Plus.