The Samsung Galaxy S7 now officially features a display scaling setting
15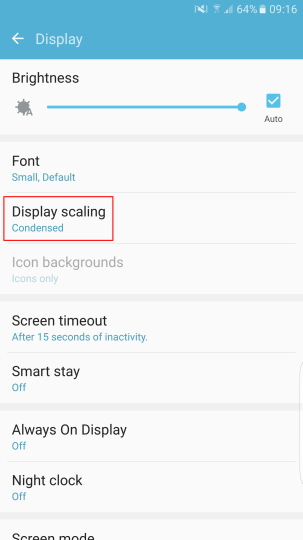 Through the latest update for the Galaxy S7 and Galaxy S7 edge, TouchWiz on Samsung's current-gen flagships now offers a display scaling setting. Essentially, the setting allows you to activate a 'Condensed' display mode that shrinks the on-screen size of the UI elements, allowing for more content to be displayed at any one point.
Note that the Samsung Galaxy S7 update that officialised what was previously a hack is actually the same one that patched
touch stability and skewed photos
. Samsung just didn't mention the new feature in the changelog, which is why it took a few days for the change to be discovered.
A few weeks ago, it was discovered that Samsung's Android 6.0 Marshmallow implementation includes a
dormant display scaling setting
. When this setting was initially discovered, the only way to activate it was through a rather complicated process that requires the installation of Nova Launcher and manually accessing the hidden menu. Later, a developer offered a one-button solution which
automated the entire process
.
Adjusting the DPI scaling setting on the Samsung Galaxy S7 turned out to be a thing that many users are interested in, and, seeing that the feature worked bug-free, it's easy to see why Samsung activated the visibility switch on this setting.
To switch between the 'Standard' and the 'Condensed' DPI scaling setting, just head on over to Settings->Display.