The Samsung Galaxy Lite I5700 to be announced this month?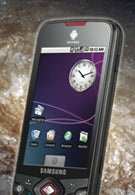 New information and pictures about the
Samsung Galaxy Lite I5700
(also known as the
Galaxy Spica
) have appeared on the Dutch website All About Phones. According to them, the handset will be officially announced by the end of this month and its market release is to follow shortly after, at the beginning of November. The handset is expected to hit the shelves with a price tag of 350 EUR without a contract and become the major rival of the
HTC Tattoo
.
Until now, we have heard many rumors about the Galaxy Lite I5700, going the Android-based device will be a lightweight version of the Galaxy I7500. The new pictures appear to have been made for the media and showcase the same handset that
has recently posed in front of the camera
of an unknown photographer. The bits of unofficial information have it the Samsung Galaxy Spica I5700 will sport a 3.2-inch AMOLED display, 3.2-megapixel camera, Wi-Fi, 3G support and run Android 1.5 OS. We highly doubt the latter will be the case though, since Google has recently released version 1.6 and we don´t suppose Samsung would roll out their handset with an obsolete OS version.
Samsung Galaxy Lite I5700 Preliminary Specifications
source:
All About Phones