Samsung Galaxy Lite I5700 with more detailed pictures and dressed in sparkling green
This article contains unofficial information.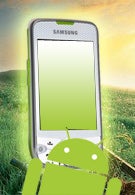 Samsung Galaxy Lite I5700
(also called
Galaxy Spica
) has been making headlines for some time now, but we haven't had the chance to admire its full glamour so far. Fortunately, members of the ai.rs blog have decided to share pictures showing the device that they have somehow managed to get their hands on. Besides, they have also made a short video displaying some of its functions. We now know what the differences with
Samsung Galaxy I7500
are going to be. The new device will have a decreased-resolution (
3.2
megapixels) camera without flash and built-in memory will be 1GB instead of 8GB. Everything else, including the AMOLED display, will remain the same and it is also visible that a trackball is missing, unlike what was previously expected. Hope these small limitations lead to a considerable price drop.
According to the source, the device is not going to be offered in sparkling green since this will dissuade a lot of potential users. We do love this color, though, and hope we get this same variant of Galaxy Lite. We secretly pray this happens at the beginning of October so we can observe the roaring battle with the newly-announced budget Android offer from HTC -
Tattoo
.
source:
ai.rs