T-Mobile roadmap shows more Android on the way
12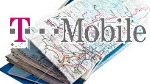 Amidst all of the Apple iPhone 4S news today, a T-Mobile roadmap was leaked, showing what the nation's fourth largest carrier has in mind for October and November. On October 19th, the HTC "Ruby", which is actually the HTC Amaze 4G, will be launched as per the roadmap. Also on that date, the Samsung "Hercules". which is the Samsung Galaxy S II of course, will also be launched. The prices, both after signing a 2-year contract, will be $259 and $229 respectively.
Also on October 19th, the
Huawei "Wayne"
is expected to launch, offering 42Mbps 4G speeds at a lower price. The handset is scheduled to come to market at a 2-year contract price of $99, so you know this will not be a high-end model. A week later, the Samsung "Arnold" tablet is due at a price of $399.99.
This obviously is the Samsung GALAXY Tab 10.1
, which we already expected to be released on October 26th.
November 2nd is expected to be a busy day for new releases at T-Mobile, and it starts with the pair of LG myTouch phones that appeared on the carrier's web site on Tuesday. The roadmap lists them as the
Maxx Touch and the Maxx QWERTY
while
we had previously told you about them as the Camera Touch and the Camera QWERTY
. Both models are expected to offer 42Mbps speed, a 1GHz processor and a 5MP camera. The Maxx Q will be endowed with a physical QWERTY keyboard and both models should run you $129 with a signed 2-year contract.
Also planned to hit the market on November 2nd is the LG Flip II. Set to price at $149 with a 2-year pact, this model
has a unique slide out QWERTY keyboard that has a screen in the middle of it
as well as 4G connectivity. Another device ready to drop on November 2nd is an entry-level priced ($99 with contract) Samsung Ancora. This could be a code name for one of the budget priced Samsung Galaxy W or Y models. The last device due out November 2nd for T-Mobile is the
Huawei Tallsome
. This is expected to be
that 7 inch tablet that was spotted in the wild last week
.
Finally, the roadmap draws to a close with the November 9th release date for the Samsung Robin. This could very well be
the Samsung GALAXY Tab 7.0 Plus with a $299 price tag
. A sequel to the Samsung GALAXY Tab, the new model should be equipped with a 1.2GHz dual-core processor and runs Honeycomb. Like the original version, the new tablet has a 7 inch screen and allows you to make phone calls.
If you are a T-Mobile customer, this roadmap gives you an idea of what to expect from your carrier over the next few weeks. Anything on the map you find enticing?
source:
TmoNews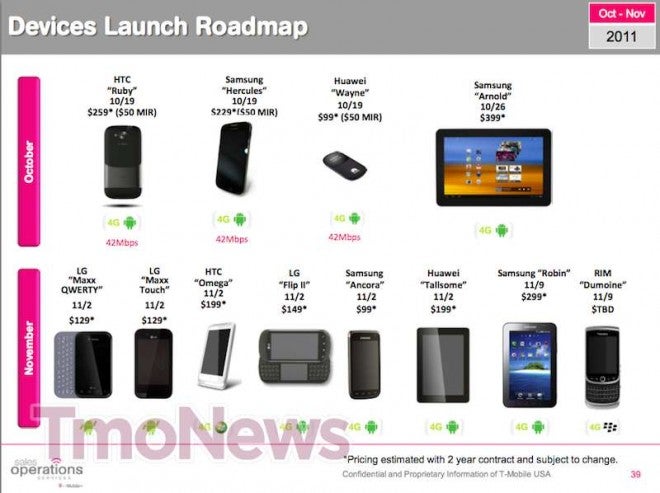 A roadmap has been leaked for T-Mobile's expected launches over the next two months