The LG Flip II and HTC Ruby show off on the way to T-Mobile
2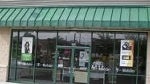 Earlier today we reported that the Samsung Hercules appears to be the Samsung Galaxy S II variant for T-Mobile. But two more Android handsets
seemingly set to join the lineup of the nation's fourth largest carrier
were both uncovered today. The ironically named
LG Flip II
is not a flip phone, but offers a side sliding QWERTY keyboard that is divided in two by a secondary display. It is not clear what the secondary display does in terms of functionality, and with specs for the phone fairly scarce, it is uncertain which build of Android will be on the model. Speculation centers on a September 14th launch.
The
HTC Ruby
is another Android model coming to T-Mobile. Lack of a genius button tells us that this will not be a 'myTouch' model. Without any hint of what the specs will be, we can't file this as being a low-end or high-end model. Originally known also as the HTC Arrive, the Ruby actually started life as a Windows Phone 7 model as we
reported
back in January. Last month, leaked photos
allowed us to say
that the phone has a camera with dual LED flash and a 3.5mm audio jack, not the most important specs that you need to know about when picking a handset to buy. Four days later, we were able to
tell you
that the HTC Ruby is an Android flavored model. Unfortunately, that is where things still remain.
It is hard for T-Mobile customers to concentrate on anything right now besides the Samsung Hercules. And while the LG Flip II does have that unique screen that cuts the slide out landscape QWERTY in half, it will take more than a unique design to
upstage the Samsung Galaxy S II
. And as far as the HTC Ruby is concerned, it could be anything from a low-end budget special to a high-end Superphone. Right now it is Hercules who will be doing the heavy lifting for the carrier.
source:
Pocketnow
(HTC Ruby),
TmoNews
(LG Flip II)