T-Mobile G2X release date confirmed: April 15th online, April 20th retail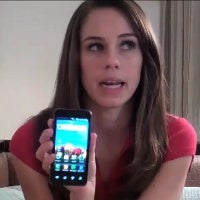 The T-Mobile G2X, which is basically a rebranded LG Optimus 2X, is the dual-core handset which should takethe crown as the most powerful one on the carrier, but the wait for it ismuch more bearable when you have an official release date.Just like rumors suggested, the G2X will hit stores on April 20th,but if you want to place your order even earlier, you'll be able toorder online starting from April 15th.
It will put you down $199.99after a $50 mail-in rebate if you choose to sign a two-yearcontract, which will possibly usher you into AT&T-Mobile times.In return you get the full dual-core power of NVIDIA's Tegra 2, whichcrushed the Quadrant benchmark app scoring in the 2400s. Add to thatfull HD video recording, one of the speediest browsing experiences(4G-capable, Flash included) and the openness of Android and you havean appealing package. But if you're still in doubt about the rawpower of the G2X, don't forget to see our head-on collision between the LG Optimus 2X and the Apple iPhone 4!
source: TMoNewsvia T-Mobile (Twitter)