LG Optimus 2X vs Apple iPhone 4
34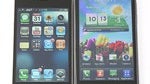 Introduction:
We are always excited here at PhoneArena when we have to compare two outstanding handsets, but our excitement gauge breaks out of range today, because we are about to throw into the gladiator pit the top of the cell phone food chain.
In the left corner a powerful new contender is flexing his guns - the
LG Optimus 2X
and on the right is the most talked-about and profitable cell phone of all times - the
iPhone 4
. Spartan industrial design that just dashes through benchmarks with the sheer raw power of its dual-core chipset, versus a thin boutique device with cult-like reputation for running hundreds of thousands of quality apps that make it a Swiss Army knife of a phone.
One of the handsets can record
Full HD 1080p
video and splash it all over your TV via
HDMI
, or render Adobe Flash and JavaScript with crazy speeds in its browser. The other can't do these, but is still selling like hot cakes. Is dual-core powerful enough to bulldoze the Apple orchard? Read on to find out...
Design:
The Apple iPhone 4 is like no other in design - steel and glass become one to form an image that both genders find appealing. The LG Opimus 2X, in its turn, tries to convey a high-tech image of a cold, but powerful handset, and succeeds, be it only for the grey-silver sides, and the HDMI title font on the protective cap - it looks like it's something the Terminator would use.
How surprising it is then to find out that they both actually... weigh almost the same, and when you handle the sharp edges of the iPhone 4 it even feels rougher than the greyish slab with 4" display, but soft-touch plastic on the back that is the LG Optimus 2X.
And here we come to the
screens
. LG makes the
3.5"
640x960 pixels
Retina Display
of the iPhone, so naturally it slapped a similar
IPS-LCD
technology on the
4"
screen of its own top-of-the-line creation, but with the lower resolution of 480x800 pixels. It also seems less bright and, of course, with lower pixel density than the one on the iPhone 4.
For some reason it also has narrower viewing angles than the Retina Display, so it might not be the best LG is capable of. Many users would take a very good 4" screen any day before a 3.5" excellent one of the same technology, but a larger screen comes at a price. In the Optimus 2X case it's the larger size, not least because of the excessive space beneath the display, which could have been used for, well, more screen.
Overall, while we don't mind the cold high-tech nature of the LG Optimus 2X's bland looks, we've seen soft-touch plastic on a phone before, thus the sheer exclusivity of the iPhone 4 design tips the scales in its favor here.
Apple iPhone 4 360-degree View: LG Optimus 2X 360-degree View: