T-Mobile G2 to get OTA upgrade starting Wednesday to allow Wi-Fi calling and tethering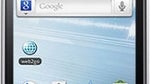 Starting Wednesday and running through next Monday, the nation's fourth largest carrier will be rolling out an OTA upgrade for the T-Mobile G2. The carrier's first HSPA+ enabled device will, after the update, be able to make calls and send texts over Wi-Fi whenever the phone is at a Wi-Fi Hot Spot. Unlike UMA, the signal is not picked up by a cellular network which means once you leave the Hot Spot, you are disconnected.
Another new service being made available to T-Mobile G2 owners after the update is the ability to allow your phone to share your internet connection with 5 other devices over Wi-Fi. Tethering will cost you $14.95 per month. If you don't want to shell out the extra money, an app like PDAnet will allow you to tether over a wired connection for free.
T-Mobile also hinted that there will be other updates coming to the device besides Wi-Fi calling and tethering, so perhaps you will be receiving some more pleasant surprises for your G2 in the next few days.
source:
AndroidandMe
Recommended Stories