Swype sends out updated beta version for Android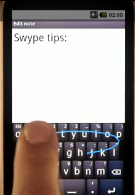 The latest beta version of Swype is now available for Android users. The upgrade is being sent out via e-mail to those who registered with the company before installing the swipe to type keyboard. Besides killing some bugs (including some model-specific problems), the upgrade improves the word prediction algorithim, adds German and Portuguese language support and allows the Tips and help menu to be accessible when a password field is active to name a few.
Swype has become standard equipment on many of the new top line Android phones such as the Samsung Galaxy S and the Motorola DROID X. If your phone came with Swype pre-installed, there is no need for you to upgrade. On the other hand, if you had signed up for the keyboard's beta program, you will need to follow the e-mailed directions as the current beta version is due to expire in a few days.
source:
Swype