Sprint's future includes BlackBerry Style 9670 BOGO, Sanyo Tahoe and LG Optimus S
3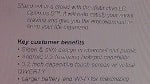 Some product information sheets meant for Sprint eyes only, give us a little bit of what the future holds for the pin-dropping network. As we already
reported
, Sprint will be offering the Samsung Galaxy Tab on November 14th for $399.99 with a 2 year contract. With a one year pact, the 7 inch Android tablet will cost $524.99.
One week later, Sprint will launch the LG Optimus S in purple. Out of the box, the device has Android 2.2 under the hood and offers Hot Spot capabilities. A 3.2 inch capacitive touchscreen adorns the front while a 3.2MP camera is on the back of the phone. A fairly large 1500mAh battery powers the handset which, after a $100 mail-in rebate and a 2 year contract, will cost only $49 which sounds like a great way to save money while still picking up a Froyo flavored phone.
On the 26th of this month, Sprint is offering a BOGO deal for those purchasing the BlackBerry Style 9670. The clamshell form factor phone has BlackBerry 6 OS under the hood along with the latest and greatest WebKit mobile browser. There is no limit to the number of free units you can score just as long as each free phone is backed up with a 2 year contract. The BOGO deal runs from November 26th through January 8th, 2011.
December 9th will see the launch of the Sanyo Tahoe, available only through "Direct Ship channels". Another clamshell form factor, this handsets meets military specifications which means it probably will hold up well during daily use. The feature phone offers a 2.0MP camera with flash and video capture and a 1GB microSD card is pre-installed. After a $50 mail-in rebate, the Sanyo Tahoe will cost $99.99 which is more expensive than the Froyo flavored LG Optimus S smartphone and the BlackBerry Style 9670 smartphone (once the BOGO takes effect).
Just as you might expect as we head into the holiday shopping season, there is a lot going on at the nation's third largest carrier and it is the Sprint cell phone customer that appears to be getting the benefit of all of this activity.
source:
BGR
Recommended Stories