Sprint's Claure says there have been no merger talks with T-Mobile
4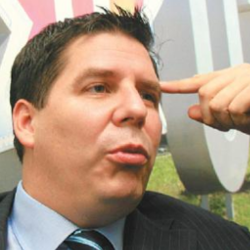 Just the other day, SoftBank CEO Masayoshi Son stated that
he would still like to see Sprint merge with T-Mobile
. Sprint is majority owned by SoftBank, and a combined Sprint and T-Mobile reportedly fits with Son's 300-year plan for his empire. But Sprint CEO Marcelo Claure said today that there are no serious discussions taking place between the two carriers."It would be nice to combine both companies to give us scale," Claure said. "Today that is a wish."
Giant German carrier Deutsche Telekom owns 65% of T-Mobile, and had been looking to sell its stake so that it could focus on Europe. But with T-Mobile about to add a large amount of expensive low-frequency 600MHz spectrum via an FCC auction, Deutsche Telekom has halted its efforts to sell the company. The German operator thinks that T-Mobile will be worth more in a buyout if it can add to its inventory of spectrum.
Two-years ago,
Sprint and T-Mobile worked out the broad strokes of a $32 billion merger
. The failure of both wireless operators to agree on the breakup fee was one of the reasons why the merger was not completed. But a bigger problem was that U.S. regulatory agencies like the FCC and the DOJ were strongly against a Sprint-T-Mobile combination.
At the time of the talks, Sprint was the third largest carrier in the U.S. with T-Mobile right behind. But plenty has changed since. Led by CEO John Legere, T-Mobile has become the most innovative carrier in the states. Last year, T-Mobile surpassed Sprint to become the third largest U.S. wireless operator. Its market capitalization (share price multiplied by shares outstanding) has more than doubled over the last two years.
Back in 2011,
AT&T agreed to buy T-Mobile for $39 billion
. But regulators refused to let the deal go through,
forcing AT&T to back away from the transaction
. In retrospect, that was the best thing that could have happened to T-Mobile. The terms of the merger forced AT&T to hand over spectrum and cash to T-Mobile as a breakup fee.

source: FierceWireless