AT&T finally gives up plans to acquire T-Mobile
69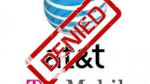 AT&T has finally realized what the government has been trying to get through for a while: the T-Mobile acquisition just isn't going to happen. So, AT&T is paying the breakup fee and looking to strike a roaming deal instead.
AT&T didn't go down quietly though. In the press release concerning the company dropping its bid to buy T-Mobile, AT&T went after the US government saying that the block by the FCC and Department of Justice "do not change the realities of the U.S. wireless industry". That reality, in AT&T's view, is that there isn't enough spectrum to go around, and although AT&T called its bid to buy T-Mobile an "interim solution" to the problem, AT&T asserts that something must be done or else "customers will be harmed and needed investment will be stifled." AT&T goes on to urge lawmakers to approve its bid to
acquire spectrum from Qualcomm
.
Of course, had AT&T been able to sufficiently prove that theory to be true, the deal may have had a better shot of going through. As is, AT&T will pay the $4 billion breakup fee, and will enter into a roaming deal with Deutsche Telekom.