AT&T buys T-Mobile for $39 billion, to form America's largest carrier if the deal gets approved
99+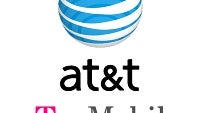 UPDATED:
AT&T presentation slides, Deutsche Telekom's stake.
Now this makes much more sense - unlike the rumor that
Sprint will be buying T-Mobile
, it turned out that actually the carrier that uses the same GSM technology - AT&T - is buying Big Magenta, for
$39 billion
in cash and stocks.
Deutsche Telekom will receive $25 billion in cash, and $14 billion in stocks, some of which it will use to pay off debt and for share buybacks, plus it will get
8%
stake in AT&T because of the stock portion. The German telecom acquired T-Mobile (previously VoiceStream), for $24 billion in 2001 - not as bad of a deal as some thought, it turns out.
It was the logical thing to happen ever since Deutsche Telekom
put T-Mobile on the market
. The buyout will add 34 million subscribers to AT&T's count, and create the largest US carrier with
130 million
customers in a year's time, when the deal is expected to clear the red tape. If it gets the antitrust authorities approval, of course. AT&T is holding a press conference tomorrow to talk us into it, so we will tune it at
8am Eastern
for the gulp of Kool-Aid, meant for the FCC, since all companies' boards involved have already
approved
it. If for some reason the deal doesn't go through, AT&T is on the hook to pay T-Mobile child support to the tune of
$3 billion
for the break-up, according to the agreement.
Well, at least now the 4G LTE plans will get a huge boost, when the
700MHz spectrum of AT&T
, and T-Mo's AWS frequencies combine, and that's precisely what AT&T means to do, according to the press release. Combining both carriers' airwaves, it said, will allow the new GSM behemoth to reach
95% (294 million) of Americans
with its upcoming LTE network - 46.5 million more than if AT&T was doing it alone.
From the presser: "
AT&T and T-Mobile USA customers will see service improvements - including improved voice quality - as a result of additional spectrum, increased cell tower density and broader network infrastructure. At closing, AT&T will immediately gain cell sites equivalent to what would have taken on average five years to build without the transaction, and double that in some markets. The combination will increase AT&T's network density by approximately 30 percent in some of its most populated areas, while avoiding the need to construct additional cell towers.
"
Here are some slides explaining the synergies, plus AT&T cherry-picking states to show us the brave new world we could live in as soon as next year: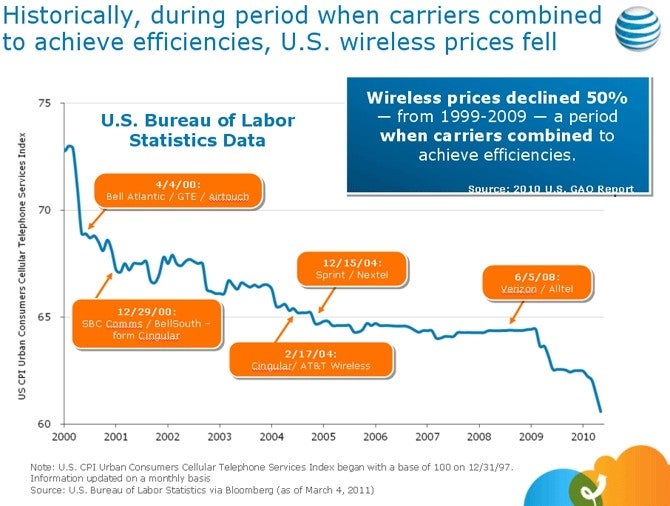 On the flip side, this probably will end T-Mo's tradition of being the bargain carrier. It might also take some phones off the portfolio of the resulting telco, due to overlapping, but, in that respect, manufacturers will do wonders with their newest handsets just to get the attention of America's biggest carrier, so it might all turn out for the better.
Not to mention the awards T-Mo has gotten on a more than few occasions for excellent customer service and
overall satisfaction
. Of course, everything is puppies and flowers, according to AT&T, which has inserted some twisted logic into a slide sure meant to appease Uncle Sam's antitrust regulators, but not really backed up by anything of substance, except for the timeline:
Verizon and Sprint are probably less than thrilled by this development. What do you think, will that surprise move stifle competition in the US, or will we benefit from the apparent synergies between the two GSM carriers?
source:
AT&T
Recommended Stories