Sprint sets sales records with the Pre
57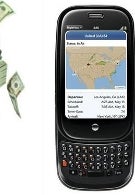 Breaking records set by the debut of the Samsung Instinct, the weekend launch of the Palm Pre rewrote the Sprint record book. The device was launched Saturday and by late Sunday it had set new marks for first day sales and first weekend sales of a new Sprint offering. As we
reported
yesterday, brokerage firm JP Morgan reported that more than 50,000 units were sold over the weekend while the WSJ published an estimate that 50,000 to 100,000 Pre's were purchased. The number could have been higher but production constraints limited the number of phones that each store was allocated and many stores were sold out of the device well before demand was satisfied. With stores getting shelves replenished, the level of interest in the Pre could be sustained for some time.
The carrier is using the launch of the Pre as a sign that things have changed at Sprint. "Sprint is a very different company than it was 12 months ago," stated the firm's CEO and public face, Dan Hesse. "Palm Pre is the coming out party for the new Sprint. It is the perfect device that highlights all of the positive changes in our company, including our revolutionary Ready Now retail store experience, greatly improved customer care, unmatched value pricing plans and America's most dependable 3G network," continued the CEO. Sprint currently is the nation's third largest cellular carrier behind Verizon and AT&T, but ahead of T-Mobile.
The Sprint records being smashed by the Pre belonged to the Samsung Instinct. Last year the model was launched amid a huge advertising campaign and the touchscreen handset was compared favorably to the iPhone in Sprint's own commercials. While the Instinct was a sales success for Sprint, enough so that a
sequel was produced
, the subsequent release of the iPhone 3G took the wind out of the phone's sails. The Pre, however, is on another level entirely and most analysts expect Palm's new smartphone to hold its own against Apple's iconic device.
Palm Pre Specifications
|
Hands-on
source:
Sprint