Sprint makes the $99 LG Marquee official: bright NOVA display and thin profile
6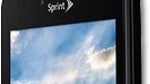 Just hours after the first press shots of the
LG Marquee
surfaced on the internets, Sprint made the Marquee official. The Android handset is a version of the LG Optimus Black sporting the same bright 700-nit 4-inch NOVA LCD display and an equally thin, 0.36" profile and light weight of only 3.95 ounces.
The
LG Marquee
arrives with
Android 2.3 Gingerbread
, a bump from the Froyo-touting
Optimus Black
. But under the hood little has changed as the handset features the same single core 1GHz processor. Not the most powerful one out there, but definitely enough to serve most of your Android needs. The price tag reflects that as well - the Marquee will only set you back $99 with a two-year contract, but after a $50 mail-in rebate via reward card.

Pre-orders start on September 20th and run for a week until the 27th, and those who pre-ordered will get their phones on the 29th, while wider
retail availability is scheduled for October 2nd
. The handset requires activation on a Sprint Everything Data plan which will run you at a combined $79.99 (including the $10 premium fee for smartphones).
On the back, there is a 5-megapixel camera, which produced pretty average shots on the Optimus Black, so hopefully LG has improved it in the Marquee. Up front, a 2MP shooter makes video conferencing easier.
LG goes to great lengths explaining the fashion statement that the Marquee represents, but in actuality - judging by the very similar Optimus Black - we found the device to impress mostly with its light weight and thin profile, while the rest of the construction feels a bit plasticky. Nonetheless, that
$99 price tag
could make you overlook those flaws and concentrates on the positives - feel free to check out our
review of the Optimus Black
to get a better idea about the phone, though, and share your thoughts in the comments below.