Sony's Xperia M4 Aqua hits the Canadian market, $299 off-contract
12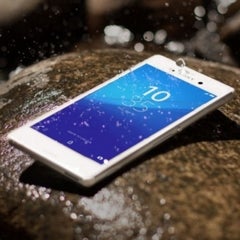 A couple of weeks back,
Sony announced
that its waterproof
Xperia M4 Aqua
would become available to the Canadian market by the end of this month, with Bell, Fido, Videotron, Virgin Mobile and WIND Mobile all primed to carry the mid-ranger. Videotron has been first to the draw, and if the Xperia M4 Aqua is on your radar, the network operator is offering it up for $300 without a contract.
Videotron is also selling the device for $29.95 tethered to a subscription, and either way, it's a pretty good deal. The M4 Aqua is packed with an octa-core Snapdragon 615 processor, a 5-inch, 720 x 1280 display, 2 GB of RAM and 16 GB of storage. There's also an 8 GB variant of the device, which Videotron doesn't appear to be selling, although since said handset
only offers 1.26 GB of on-board storage
once you factor in the bloatware, this is probably for the best.
The Xperia M4 Aqua does include a microSD slot for those who need more real estate, and there's a 2,400 mAh battery that Sony claims can last for two days. Sony's name is synonymous with high-spec camera technology, so despite being a mid-range device, the 13-megapixel rear-facing camera packs a decent punch, as does the 5-megapixel selfie shooter on the front.
If you're in the market for a new Sony smartphone, you might have a little trouble at the moment. The Japanese firm has
stepped out and admitted
that both the Xperia Z3+ and Z4 are overheating, thanks almost wholly to the Snapdragon 810 chip under the hood. Sure, the company has promised a remedial software update, which will possibly involve lowering the Qualcomm chip's clock speed to help better regulate the temperature. But this isn't particularly convincing, and while many power users may opt for a non-810-packing flagship like the
LG G4
,
Samsung Galaxy S6
or the
Apple iPhone 6
, those loyal to Sony and not
so
fussed about specs could do a lot worse than snap up an Xperia M Aqua.
If you are in Canada and happy to roll with Videotron, check the source.