Sony Xperia M4 Aqua Review
24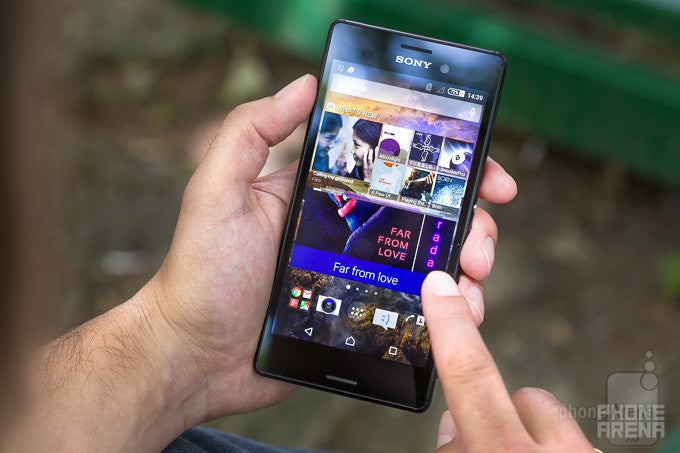 Introduction
The
Sony Xperia M4 Aqua
is a stylish and affordable phone sitting right in the mid-range segment, but borrowing design clues from Sony's top-tier products. Its signature feature is water-resistance and full-on IP68 rating, so you can submerge it in water and have fun shooting videos in the swimming pool without worrying that the phone would get damaged.
The Xperia M4 Aqua features a 5-inch display with a resolution of 720 x 1280 pixels, runs on Android 5.0 Lollipop with a modern, 64-bit octa-core Snapdragon 615 system chip, and has a 13-megapixel camera.
Sony has cut some corners, though, equipping the M4 Aqua with only 8GB of internal storage, and a lower-capacity battery than the top-tier Xperia Z series. Are those deal breakers, or is the Xperia M4 Aqua still a good deal? Let's find out.
In the box:
Sony Xperia M4 Aqua
0.85A - 5V wall charger
microUSB Cable
User manual
Design
The Xperia M4 Aqua is thin and stylish, borrowing the design language of the Xperia Z series, but using plastic on the back and the sides rather than a sturdy combination of metal and glass.
The Sony Xperia M4 Aqua looks so similar to the flagship Sony phone - the
Xperia Z3
- that it's almost impossible to tell the difference. And that's a great thing as both are slim and stylish devices that impress with their looks. Despite having a slightly smaller, 5-inch display (the Z3 features a 5.2-inch screen), the dimensions of the two are actually nearly identical.
Given that the M4 Aqua is sold for half the price of the Xperia Z3, though, one does expect to see some differences, and they are indeed present, but rather than being in the outwards appearance, the difference is in the feel and materials used in the Xperia M4 Aqua. The mid-ranger is an all-plastic affair - with a plastic frame and a reflective plastic back made to resemble glass, while the Xperia Z3 is made of sturdy aluminum and real glass on the back. The M4 Aqua's plastic build feels a bit cheaper and not as sturdy as the rock solid construction of the Z3, but it is still solidly put together, with no moving parts.
Up front, it's all about the display and the two front-firing speakers - there are no physical buttons, instead the M4 Aqua relies on on-screen keys for navigation. All the physical keys are on the right: a small, but fairly well defined and easy to find without looking lock/power key, a smallish volume rocker without much of a clicky response below and a two-way camera shutter key further down below.
As its name implies, the Xperia M4 Aqua is protected from the elements - both from dust and water - and it's officially certified with the IP65/68 rating. That rating guarantees that you can submerge your phone as deep as 5 feet (1.5 meters) for as long as 30 minutes without it suffering any damage. First, though, make sure that all the protective flaps are closed and keep in mind that you can only submerge it in fresh water as in a swimming pool (and not salty sea/ocean water).
Display
A 5" 720p IPS LCD display means a picture that is not as sharp as on other phones, but colors look good with a lot of vibrancy and life to them. Brightness is also more than enough for comfortable use outdoors.
The Sony Xperia M4 Aqua features a 5-inch IPS LCD display with a resolution of 720 x 1280 pixels. This translates into a fairly decent pixel density of 294ppi - sharp enough not to notice much pixelization at regular viewing distances, but still, jagged pixel edges are noticeable when you look at the phone from up close.
In terms of colors, the display of the M4 Aqua looks pretty good: it's not perfectly calibrated and tends to be a bit on the cold side with lower-than-standard gamma giving a slightly lighter, a bit washed-out look, but while these issues deter it from being perfect, colors on the whole appear pleasantly lively without being unnaturally oversaturated. For its class, this is one good looking display. We're happy to see that Sony adheres to the sRGB color space, the color standard that everything on the web is tailor-made for. For color perfectionists with their own color calibration gear, Sony includes manual control over the red, green, and blue channels in Settings -> Display -> White temperature. You can safely add a bit of reds to compensate for the cold-ish tonality (white temperature on the phone is set to ~7400K, above our reference 6500K value), and easily get an even better-looking display.
Outdoors, the display is not hard to read at all as it gets very bright, reaching a maximum brightness of 551 nits. It is a bit more reflective than average, but the high brightness makes up for that and outdoor viewing is not an issue. Viewing angles are also very decent, with colors retaining a lot of their vibrancy even at an angle.
Display measurements and quality
Recommended Stories