Sony Xperia XZ2 Premium size comparison: this is the biggest phone of 2018!
16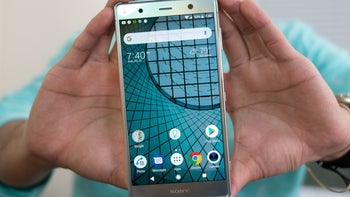 The Sony Xperia XZ2 Premium is a unique phone with a stand-out 4K 5.8" 4K 2160 x 3840 pixel screen, a top-tier Snapdragon 845 system chip, a very good camera, but it is also a huge device, bigger than most other phones out there.
In fact, the Sony Xperia XZ2 Premium is the BIGGEST flagship phone launched in 2018!
It's not only that the phone is rather thick with a thickness reaching up to 0.47 inches (while others hover around the 0.3-inch mark), it is also physically gigantic: it is tall and especially wide, which makes it very hard to handle with one hand.
To understand just how big the new Xperia XZ2 Premium is, just take a look at this visual comparison against other popular devices:
VS other Sony phones
The Xperia XZ2 Premium is bigger than all earlier top-tier Sony phones and it is significantly larger than even the already big first-get Xperia XZ Premium.
VS Samsung's flagships
The Samsung Galaxy Note 8 is one of the biggest phones around, but even the Note 8 is not as wide as the Xperia XZ2 Premium (the Note is a bit taller, though). The Galaxy S9+ looks plain tiny in comparison with the Sony!
VS Apple's top phones
Apple's gigantic iPhone 8 Plus is about the same size as the Xperia XZ2 Premium, but it is much thinner, while the Sony is a thick, bulky phone.
VS others
And most other phones don't match with the excessively giant Xperia XZ2 Premium.
Would carrying such a big phone be uncomfortable to you? And would you buy the Xperia XZ2 Premium despite its large size?