Sony Ericsson Xperia X10 to make North American debut in Canada, through Rogers, in Q2
2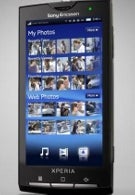 X10
and it's 4 inch screen. Rogers, the Canadian carrier who will have an exclusive on the handset in Canada, is expected to launch the Android powered phone sometime in the second quarter. The Xperia X10 features the Timescape application that allows all conversations with one person to be accessible in one location. Social networking sites like Facebook and MySpace are all available through this interface. The Mediascape application allows you to get music, video and pictures from various sources. Online services like YouTube are used to gather your content for this interface.The facial recognition feature allows your handset to match a person's picture with your interactions with the individual including content from the social networking sites, and the new infinite button aggregates all of your interaction with one person and lets you see it all in one view. Sony's proprietary UX (user experience) platform is built on top of Android 1.6.
As for the specs, the Xperia X10 features a 4 inch display with resolution of 480 x 854 pixels, the same as seen on the 3.7 inch display on the Droid. Wi-Fi is enabled on the handset and The 8.1MP camera includes LED flash and AF. and Of course, there is the speedy 1GHz Snapdragon processor under the hood. Music lovers will be estatic to know that a 3.5 mm audio jack is on the unit.
There is no question that this is the flagship device for Sony Ericsson and is designed to not only go up against the iPhone, but is also made to compete with some of the newer Android phones like the Droid. While we now know to expect the handset to be launched next quarter, we still have no pricing info for the model. For many out there, Q2 couldn't come fast enough.
Sony Ericsson Xperia X10 Specifications
|
Preview
source:
SonyEricsson
via
BGR