Sony Ericsson Xperia X10 Preview
11

This is a global GSM phone. It can be used with T-Mobile's 1700MHz 3G band, and with AT&T USA without 3G. The
American version
supports AT&T's 3G network.

Introduction:
The official announcement of the
Sony Ericsson Xperia X10
was preceded by a long succession of unofficial snapshots and information leaks. The manufacturer, however, decided to finally unveil the new Xperia at the beginning of November. The massive interest the handset enjoys can be easily explained away. First off, it´s Sony Ericsson´s first Android-based cell phone. Second, it´s equipped with absolutely huge, 4-inch screen and all-powerful 1GHz Snapdragon chipset. Third, it sports a personalized Android interface aimed at seamless integration of popular social networks and services and apparently, the X10 has a lot to offer to eager fans of online socializing. Now, let´s take a closer (but still, preliminary) look at this Android.
Design:
We are pleasantly surprised at the
overall size
of the Sony Ericsson Xperia X10. Despite its gigantic 4-inch display, the handset is not notably larger or bulkier than the
iPhone.
Typically of Sony Ericsson, the
design is far from simple and clean.
There are three buttons on the front side, respectively one for Android menu, one that takes you to the home screen and one to go back into menus. There are hidden LED indicators on either side of the Home button that lend color and shine to the overall look. The back is rounded and feels comfy in your hand, plus it sports a matt finish that is relatively good at what it´s supposed to do, i.e. prevent the phone from accidentally slip out of your hand.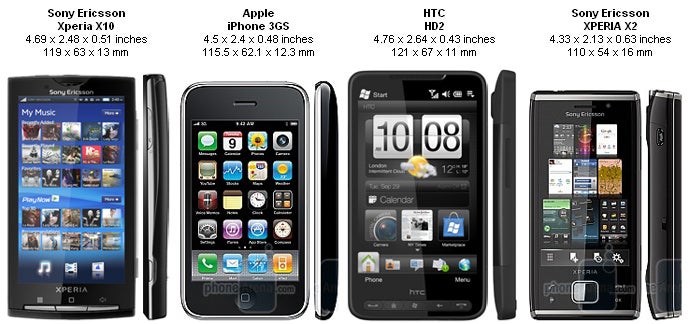 You can compare the Sony Ericsson Xperia X10 with many other phones using our
Size Visualization Tool.
As we mentioned,
the display measures 4 inches
and has native resolution of 480x854 pixels, just like the Motorola MILESTONE (DROID). The image quality is very good with really saturated colours. As becoming of a high-end device, the touch-sensitive screen utilizes capacitive technology and judging by our prototype, its sensitivity is perfect.
All tech buffs will be happy to know that Sony Ericsson has decided in favour of standard
3.5mm jack and microUSB port.
This must have been pretty hard a step for the manufacturer, but we are glad the company has made it.
As a whole, we can define the overall design of the Sony Ericsson Xperia X10 as elegant. Perhaps its specific shapes won´t appeal to everyone, but certainly, many people will fall in love with the concept of the future flagship device of the manufacturer.
Sony Ericsson Xperia X10 360 Degrees View: Recommended Stories