Some lucky Sprint customers receive their Samsung GALAXY Nexus 2 days early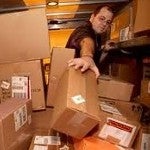 On Thursday, we passed along the news that
Sprint had sold every last one of the Samsung GALAXY Nexus phones that it had set aside
for pre-orders. Priced at $199.99 with a signed 2-year contract, the phone was priced to sell. The official launch date for the phone is April 22nd or this coming Sunday. You can imagine how surprised (but deliriously happy) some were to find the box with their new handset in it
sitting right outside the front door on Friday
.
some of those who pre-ordered the phone would get it on Friday, April 20th
. Still, for many out there who never seem to catch a break, it must have been refreshing to be able to stare at that 4.65 inch Super AMOLED screen all day Friday. The Samsung GALAXY Nexus is
Sprint's first LTE enabled phone
.
Don't forget that the Sprint Samsung GALAXY Nexus
carries support for Google Wallet
and if you activate it within a week of activating your phone, you will find your virtual wallet stuffed with virtual cash. $10 is supposed to be
credited to you instantly
, right after you sign up for Google Wallet. Sometime between April 22nd and May 22nd, Google will stuff an additional $40 of virtual cash in your virtual wallet. It's enough to make you virtually wealthy!
If you were one of the lucky ones who received their Sprint Samsung GALAXY Nexus on Friday, let us know by dropping a comment in the box below.
source:
Phandroid