Snapchat's Spiegel sees an "interesting opportunity" in music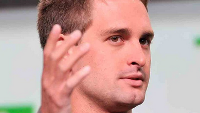 With the
value of messaging app Snapchat on the verge of soaring to dizzying new heights near $19 billion
, CEO Evan Spiegel says that he wants the app to do more with music. Recently, Snapchat
had an exclusive on the first music video from Madonna's new album
. The song, "Living for Love," came from the singer's "Rebel Heart" LP.
During a recent on-stage interview at USC, Spiegel said that music now is a lot like communications was back when he was starting to work on Snapchat. The executive says that after communications, listening to music is "
the highest frequency behaviour on your phone and so that in our view, makes it a really interesting opportunity and it's something that we are thinking about
."
Snapchat's claim to fame is its platform which allows messages composed of videos and photographs to disappear 10 seconds after being viewed by the recipient. Spiegel has been contemplating adding music features to the app for a while. When Sony's online files were hacked into a few months ago, a Sony memo about Spiegel was leaked. The memo said "
He
(Spiegel)
thinks every music service in the market is shit and he wants to be a curator. He doesn't want to build a music service but he would like to have a record label so he could focus on the artists that he wants to use the platform to promote
."
Snapchat recently introduced its Discover feature, which provides content from major brands like CNN, ESPN, Yahoo, People and Comedy Central. Warner Music has also agreed to be a launch partner for Discover. Besides seeing the content from different media names, you will see stories put together by artists, publishers and even Snapchat's own editorial staff. In a bid to monetize the app, advertisements will be sold for the Discover feature, which will be updated daily.
source:
TheGuardian