Scosche boomSTREAM hands-on
0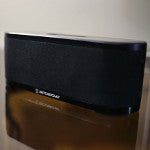 Here at PhoneArena, we get the chance to scope some of the cool mobile gear that can help complement our existing set of gadgets. Time after time, we've come across a wide range of portable Bluetooth speakers – some being full figured offerings that can
encompass giant living rooms
, while others are merely
situated for smaller spaces
. This time around, we're checking out the
Scosche boomSTREAM
, which is a portable and travel friendly Bluetooth speaker that's packing
dual 40mm drivers
to liven up those confined areas with its tones.
Glancing over the Scosche boomSTREAM, it doesn't necessarily stand out for its design, since it's going with a cookie cutter approach. Regardless of that, there's a sense of
sturdiness
with its construction, which is thanks in part to its plastic chassis. Along the top surface, it might appear to sport some kind of metallic finish, but it's indeed as a sturdy plastic panel that emulates the look. Still, it's nice that we have quick access to the trio of recessed buttons on there – these include the volume up, volume down, and Bluetooth pairing buttons. On the one side of the boomSTREAM, we spot its power switch, auxiliary jack, and microUSB port to charge its internal
1,200 mA lithium polymer rechargeable battery
. Conversely on the other side, we have an LED light, microphone, and a
handy USB port
that enables the boomSTREAM to charge other devices with its built-in 500 mA battery.
Pairing it up with an iPhone 5, we have to say that the Scosche boomSTREAM delivers enough pleasant tones to appease our ears. It's never straining at the loudest setting, thankfully, but its quality is further enhanced by its
down-firing passive subwoofer
, which is ample enough to sprinkle a dose of bass to its output. Certainly, it's not too often we find Bluetooth speakers that double as chargers too – so it's a nice feature to find here with the boomSTREAM. Sure, it might not fully bring back our devices to 100% capacity, but it's nice being to top them off on the road. Flaunting a
$99.99 price point
, some will appreciate the good audio quality that the boomSTREAM delivers, but then again, you might be able to snag something with a bit more oomph if you're willing to dish out more money. Nevertheless, you can't deny that it's pretty useful to charge devices on the go with this one.
Other portable Bluetooth speakers to check out