HMDX Jam Bluetooth Wireless Speaker hands-on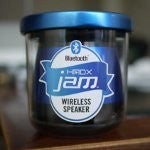 In a move to differentiate its offering from everything else out there on the market, the
HMDX Jam Bluetooth Wireless Speaker
goes the route of being packaged and marketed as sweet, sweet jam – you know, the
stuff
you put in your peanut butter sandwiches. Looking at the packaging alone shows great marketing genius, as the typical nutrition facts are replaced by "
Jam Facts
" that allude to some of its main features. Although it's not one of those complete speaker systems that'll shake a room, the HMDX Jam Bluetooth Wireless Speaker is more typical of something that you can take anywhere.
Much like its intriguing packaging, the design of the HMDX Jam is also non-conventional with its tapered looks and bright colors. In fact, it's available in array of colors to choose from, but in our case, we dig its jam-like
Blueberry color
. Constructed out of some
sturdy plastics
, its metallic blueberry color complements its overall scheme – though, it does pack
some weight
to it. Sure, it'll put a bulge in your pockets, but it's compact enough to be tucked away discretely in a bag.
Initially, the HMDX Jam doesn't appear to look like any other portable speaker, but upon looking at its top
edge
, its speaker grill tells us that it's distinctively a speaker of some kind. Meanwhile, around the bottom rim of the speaker, we find buttons for pause/play, track forward, track reverse, auxiliary-in port, LED light, and microUSB port to charge its internal battery, which so happens to be rated for 4 hours of continuous playback. Finally, on the bottom edge, there's a switch that quickly powers it on or odd.
Placing it to the maximum volume level, our ears cringe because of the amount of
crackling and distortion
evidenced while listening to a song. However, after bringing it down a few levels, we're able to better enjoy its
pleasant output
– though, it doesn't quite deliver some of the deep bass tones we'd like. Nonetheless, there's a tiny bit of vibration going on that exhibits some of its power. Overall, the quality is by far more enjoyable than dealing with the dainty speakers of most smartphones – plus, it's nice that it boasts a unique design and decent audio quality to make it a pleasure to use. Attached with a
$39.99 MSRP price
, it isn't that bad at all considering everything we've seen and experienced with it.