EDGE.sound Review
1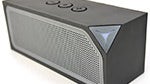 Introduction:
As the good saying goes, "big things come in small packages." Rightfully so, that's what the folks over at CUBEDGE are aiming for with its latest concoction in the
EDGE.sound wireless speaker
. For something so compact and portable, it's rather deceiving considering that it's capable of pumping out tunes up to 95db, and has a frequency range of 40Hz – 20kHz. And to top it all off, the EDGE.sound is eco-friendly at heart as well due to its various green-minded characteristics. Ultimately though, it's going to come down to pure audio quality for this one to have some kind of a chance – even more when it's grossly priced at $149.
Design:
Impressively, the EDGE.sound is sporting one
serious industrial design
that really stands prominently out from the crop of usual wireless speakers out there. Donning a sleek and modern looking design, strongly defined by its hard lines and angles, there's no arguing that it's the kind of thing that gets peoples' attention from a quick glance. Indeed, it's compact in size versus other full-sized models, but it's still something that's better off stored in a bag when traveling – as opposed to your pocket. No doubt, its construction is superbly solid from all angles, which is further complemented by its balanced weight. And for the most part, it maintains a clean appearance thanks to its black matte finish. Speaking of being eco-friendly, the EDGE.sound is constructed out of non-brominated flame retardants and PVC-free. In addition, its packaging containment box is a reusable and recyclable aluminum container.
Along the front, its
speaker grill
dominates the majority of real estate over there – while its LED light occupies the top right corner. Although we like the large size of the
three circular sized buttons
(volume down, multi-function, volume up) that are positioned on the top edge of the speaker, we're not fans of their stiff response, so much so that you really need to press firmly on them. Connected to an iPhone, the middle multi-function button doesn't do anything except to redial by double pressing on it. To tell you the truth, it would've been nice to see dedicated playback controls with this. Finally,
the rear of the speaker
features its on/off switch, microUSB port to charge its internal battery, and an auxiliary port to connect other devices.
Recommended Stories