Satechi Audio Cube (2nd gen) hands-on
1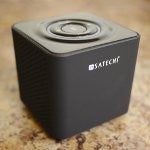 Sure, it wasn't the kind of Bluetooth speaker meant to lighten up a living room or some other sizable place, but the Satechi Audio Cube from last year was ample enough to fill up small offices and spaces with its robust tones. Back for round two, the 2nd generation Satechi Audio Cube is ready for the masses with its updated design and incredible audio quality.
Visually, the Bluetooth enabled portable speaker retains the distinct cube-like shape that made the original stand out, and at the same time, it maintains a very clean looking finish thanks to its rubberized exterior coating. Just a tad beefier in size than its predecessor, the unique styling is no doubt stylish enough to complement a modern looking living space. Even better, we're glad to see that they've updated the control scheme on the Satechi Audio Cube as well, since it's sporting dedicated buttons for pause/play, volume up, volume down, track reverse, and track forward. Although they're spring in response, there's some fidgety movements seen with the middle button that turns it on and acts as the pause/play function.
In terms of audio power, we're pleased with the results yet again, as its output is marginally improved over the 1st generation model. Setting it to the loudest volume, it doesn't exhibit too much strain or crackling, but rather, tones have a subtle amount of bass to give the quality some kick. Connectivity to the speaker seemed ample as well, since out iPhone 5 was able to maintain a connection up to 20 feet away. And of course, people will like it for its compact size and portability, which is rated to provide 6 hours of playback on a single charge.
Still, as we've detailed before, the 2nd generation Satechi Audio Cube doesn't rival dedicated speaker units that make great center pieces for living room home entertainment systems, but instead, it's a complementary thing that goes nicely in smaller confines – for a more personalized experience. For $49.99, it seems reasonable enough to go check out.