BRAVEN 600 Portable Bluetooth Speaker hands-on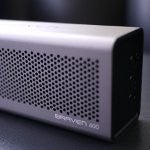 At first glance, the

BRAVEN 600

seems like something you'd find in a kitchen more than anything else, since it eerily looks like some kind of cheese grater. However, it's in fact a

Bluetooth speaker

that's donning one intriguing design to differentiate itself from some other offerings. In addition to that, it's compact enough to bring along on your excursions – while still delivering some potent tones. Sporting a

$149.99

price point, it's undoubtedly distinguished as a premium offering, but the fun doesn't end at simply being a speaker.

In fact, the BRAVEN 600 actually houses a

1,400 mAh battery

– thus, giving you the ability to charge your device on the go. Even better is that its size isn't compromised in any way whatsoever with the added feature. Moreover, in the event that you're getting a call while streaming a song, its

full-duplex microphone

is there to ensure that you'll get the best calling experience. With that in mind, let's take a look at what the BRAVEN 600 has to offer.