Soundfreaq Sound Kick hands-on
1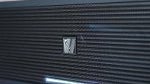 Are you freaky when it comes to listening to the sound of music surrounding you? Well, if you're the kind of person to shake a groove at a moment's notice at some random place, you might find the
Soundfreaq Sound Kick
as the perfect companion, as it allows you to share your music in a very big way. Specifically, it's a Bluetooth portable speaker that's perfect for road trips or getaways, but it so happens to offer an additional feature that we don't tend to see with other comparable speakers – a
built-in battery
that allows you to simultaneously charge your device while playing some sweet, sweet music.
Donning a
very speaker-like design
, which is evidenced by the humungous speaker grill taking up most of its façade, the all-black plastic casing doesn't try to hide the fact that it's a speaker. Although it doesn't flaunt an original design, we're nonetheless satisfied by its
solid build quality and construction
– though, its design reminds us of a slim PlayStation 2 console. No doubt, it's not something that'll fold easily into our pockets, but it's still portable enough to carry along in a backpack without being too over-bearing on long trips.
Obviously, there are two speakers hidden behind its protective grill, while on the top edge of it, there are a bunch of
recessed touch-sensitive buttons
for its playback controls and volume adjustment. On top of that, pressing the "Pair" button places the Bluetooth speaker into pairing mode, while another touch sensitive button etched with "UQ3" allows us to cycle through its various
spatial sound enhancement settings
. Lastly, the physical power button brings the entire thing to life, which is indicated by an LED strip also lighting up within the speaker grill. However, in order to power it on, we have to extend the rear component of the speaker out first. In the rear, we find its proprietary charging jack and a full-sized USB port – the latter of which allows us to charge out devices thanks to its built-in
500 mAh battery
.
Impressively, the Soundfreaq Sound Kick puts out some quality audio – even at the highest volume setting. At no time did we experience any crackling or distortion, but rather, we're treated with some
distinctive and robust tones
that showcase its audio fidelity. Accompanying the pleasant tones, there is enough bass pumped out by the Sound Kick to really bounce audio equally throughout a small room. Initially, we were a bit skeptical about its output, especially for its dainty size, but afterwards, we're totally convinced by its prowess. Surely, its
$99.99 price point
might seem a tad high for some people, but it's absolutely justified in many ways. Don't let its small size fool you, because seriously, it's freakishly powerful!