Save up to $410 on the Pixel 2 by trading in your phone to the Google Store
6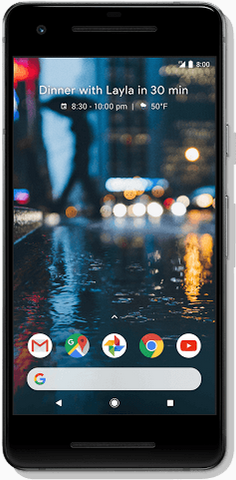 Save up to $410 by buying the Pixel 2 from the Google Store with a trade-in
The Google Store is having a promotion that can save you
up to
$410 on the purchase of the
Google Pixel 2
. Note that we emphasized the words "up to." That is because the discount you receive is based on the handset you trade-in to Google. The maximum credit of $410 is yours if you trade in a first-generation
Google Pixel XL
. The OG
Google Pixel
will get you $360 off the Pixel 2. The
Samsung Galaxy S8+
will bring $345 in credit while $385 will be taken off the price of the Pixel 2 if you trade-in the
Apple iPhone 7 Plus
. Click on the sourcelink to see how much you will get for your phone.
To start the trade-in process, click on the sourcelink and get an estimate on your trade. Buy a new Pixel 2 handset and wait to receive your prepaid shipping trade-in kit. When you get the kit, you should first transfer your data from your trade to the new Pixel 2. Factory reset the old phone and mail it to Google using the prepaid envelope. Your refund will be sent to your credit card. Keep in mind that your trade must be sent to Google within 30 days of initiation of the trade-in process.
The 64GB Pixel 2 is $649 or $27.04 a month over 24 months. The 128GB Pixel 2 is $749 or $31.21 a month for 24 months.
source:
GoogleStore