Samsung may take on the Jet Black iPhone 7 with a 'glossy black' Galaxy S7 in December
28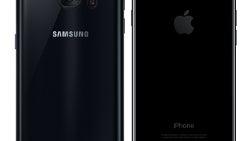 Huh, that original Onyx Black version of the
Galaxy S7
is considered too matte for Samsung, so they may be planning a glossier black version of the handset? Color us surprised, as the Onyx Black still looks pretty shiny thanks to that multilayer
nanocoating
that sparkles under every ray of light falling on the phone, but apparently it's not sufficiently shiny.
Korean media is abuzz with speculation that, just like it outed a
Blue Coral version
of the
S7 edge
, Samsung will be releasing a Glossy Black Galaxy S7 pretty soon, perhaps even in early December, tip "industry sources." It's not clear yet if the shinier dark version will land only on the home turf, or if Samsung also plans to bring it abroad.
Recommended Stories