Samsung lists a code name for a refurbished Galaxy Note 7?
43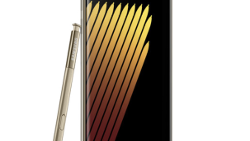 Last month, we passed along an interesting rumor about the
Samsung Galaxy Note 7
. According to published reports,
Samsung was going to sell refurbished Galaxy Note 7 units
powered by a lower capacity battery, in countries like Vietnam and India. The reports had the phablet powered by a 3000mAh or 3200mAh battery compared to the 3500mAh juicer that exploded, causing the device to be recalled not once, but twice. In addition, the refurbished units would feature a new case.
However,
Samsung India quickly denied the rumor
. However, the reasons for recycling the device remain just as valid as ever. It would allow Sammy to recoup some of the money that went down the drain when the Galaxy Note 7 was pulled off shelves. And with fewer Galaxy Note 7 units to bury in some landfill, Samsung wouldn't be damaging the environment as much as originally expected. That would help counter the negative publicity that Samsung received at MWC
when Greenpeace interrupted its presentation
.
This appears to be a rumor that won't die. A new report states that the refurbished Galaxy Note 7 is still being developed with the model number SM-N935. It also sports the code name Grace R. Apparently, the original version of the phablet used the Grace code name and the R stands for "Refurbished." In addition, the Samsung Galaxy Note 8 is said to carry a code name of Great. The international version of the device reportedly has a model number of SM-950F.
While there might be logical reasons for Samsung to recycle the Galaxy Note 7, that name is going to be a hard sell, even in emerging markets. At this point, we continue to believe Samsung India's denial simply because it makes sense for Samsung to move forward, not backward.
source:
SamMobile