Greenpeace interrupts Samsung's MWC event with Galaxy Note 7 complaint
26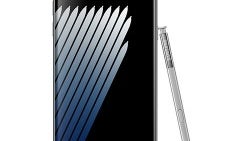 Environmental activists Greenpeace disrupted Samsung's event at MWC on Sunday. At issue is Samsung's handling of the millions of
Samsung Galaxy Note 7
handsets that the company needs to dispose of. While Samsung Europe's Chief Marketing Officer David Lowes was making his opening statement, a protestor stood on the steps of the stage holding a banner with the recycling logo. The banner read #Galaxy Note 7 and "Rethink, Reuse, Recycle," which prompted the Samsung executive to tell the activist, "You've made your point."
While this was taking place inside, outside of the venue Greenpeace put up a similar banner outside of the building. Greenpeace's Spanish home page revealed that it had asked Samsung numerous times how it was planning to dispose of the 4.3 million phablets that were turned into the manufacturer following two recalls. In addition, Samsung made the decision to destroy all Galaxy Note 7 units instead of retrofitting them with new batteries. In fact, a rumor starting spreading last week that
Samsung was about to sell refurbished Galaxy Note 7 units
using lower capacity juicers. That rumor
was shot down by Samsung
.
Greenpeace first got involved in this cause in November when it challenged the Korean manufacturer to recycle the Galaxy Note 7 instead of dumping them in a landfill. Back then, the environmental activists noted that "These phones contain rare and precious resources like gold, cobalt and tungsten that could be recovered instead of being easily thrown away."
We don't expect Samsung to give in on this issue since it would prefer to put the fiasco behind it. Recycling the parts keeps alive the memory of the Galaxy Note 7, a memory that Samsung would rather erase from history (read The Ghost of Flight 401).
source:
Greenpeace
(
translated
), first image courtesy of Android Authority