Samsung infographic compares the Galaxy Note 4 to the Note 3, Note II, and original Note
47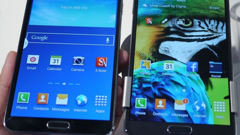 Back in 2011, when Samsung released its
first Galaxy Note
, many were skeptical about it, and didn't believe that such a huge handset would have an impact on the mobile industry. Most people still wanted pretty small smartphones - like the 3.5-inch iPhone 4s.
But here we are, in 2014, when the fourth-generation Galaxy Note is almost ready to be released around the world - following its official announcement from earlier this week at IFA 2014. Samsung sold tens of millions of older Galaxy Notes until now, so the expectations for the new model are set high.
Undoubtedly, the Note 4 is
a very important device to Samsung
, so the company took the time to make an infographic (seen below) that compares it to the older models:
Galaxy Note 3
,
Galaxy Note II
, and the original Galaxy Note from 2011. As you probably already know, the Note 4 brings improvements in almost all departments over the Note 3, and it's in a totally different class when put next to the Note II and the original model.
While
all the new features of the Note 4
may not be enough for some Note 3 owners
to upgrade
, this is certainly one of the year's most advanced handsets, and we imagine that a lot of customers will want to get their hands on it. Unfortunately, most people will have to wait until October to do that, because that's when Samsung will launch the Note 4. Until that happens, you may want to check out our hands-on time with the new Note
here
and
here
.